Our Campaign
Summary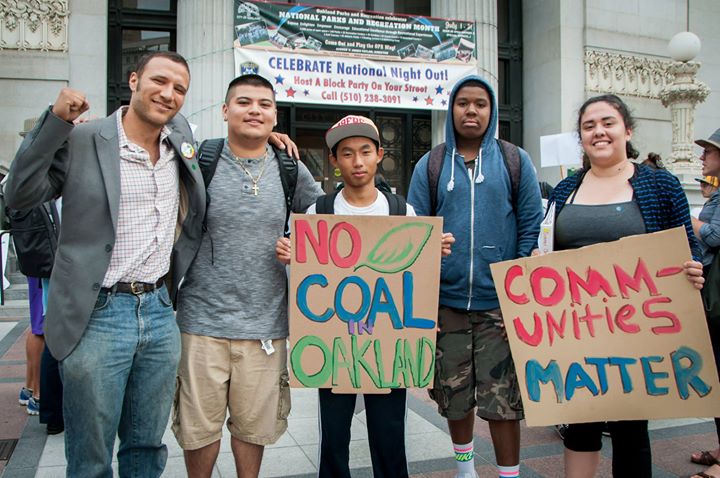 No Coal in Oakland is a grassroots organization campaigning to stop the threat of coal being transported by rail into Oakland for export overseas. Though the Oakland City Council, the city's Mayor, and politicians at the state and local levels are on-record opposing coal passing through Oakland, the proposal to build a massive coal terminal at the foot of the Bay Bridge remains tied up in both Federal and California lawsuits, and decidedly on the table.
The project, known as the Oakland Bulk and Oversized Terminal (OBOT), is being built by a group of developers operating under a series of corporate shells including Oakland Global Rail Enterprise, LLC ("OGRE") and, previously, Prologis CCIG Oakland Global LLC ("CCIG"). After years of assurances that coal would not be transported through the bulk terminal, community members learned in April 2015 that developers had secretly cut a funding deal with four Utah counties to export coal through Oakland. In exchange for $53 million in project funding, the developers promised the Utah counties shipping rights to at least 49% of the bulk terminal's 9-10 million ton annual shipping capacity.
Utah officials have stated that they intend to use this capacity to export coal to overseas markets. This revelation followed a number of statements to the contrary by Oakland developer Phil Tagami, CCIG's President and CEO. Tagami stated that the company had "no interest or involvement in the pursuit of coal-related operations at the former Oakland Army Base," in his company's newsletter (December 2013) and in private assurances to Oakland City Councilmember Dan Kalb.
Oakland has long been a center for highly-polluting transportation activity, resulting in disproportionately high health impacts for the residents of West Oakland. Our community has made some progress toward systematic reduction of pollution caused by these activities, but Oakland can't and won't allow toxic coal dust to erode modest gains and further threaten our health. Coal is the dirtiest fossil fuel on Earth, imperiling the health of workers, endangering communities along rail lines that transport it, and contributing greatly to global warming and climate change.
Although we support the construction of the Oakland Global Trade and Logistics Center and all the jobs it will bring, we reject the developer's claim that coal shipment is needed to sustain the Center, and we reject the claim that there will be fewer jobs if coal is excluded from the project. Environmental justice and protection of the climate can go hand-in-hand with redevelopment of Oakland's waterfront.
Video Overview
A filmmaker from Germany, associated with "Hambacher Forst" activists, visited Oakland to learn about No Coal in Oakland's issues and campaign. The video is a quick and excellent introductory overview of the campaign to stop construction of infrastructure for shipping and handling of coal at the foot of the iconic San Francisco Bay Bridge. You can view the video on the Internet Archive.
Timeline
December 2013: Oakland developer Phil Tagami states in Issue 4 of his company's Oakland Global News that he has no plans to ship coal through the Oakland Bulk and Oversized Terminal (OBOT) he is planning to build: "It has come to my attention that there are community concerns about a purported plan to develop a coal plant or coal distribution facility as part of the Oakland Global project," Tagami said. "This is simply untrue. The individuals spreading this notion are misinformed. CCIG is publicly on record as having no interest or involvement in the pursuit of coal-related operations at the former Oakland Army Base."
April 2015: Community members learn developers had secretly cut a funding deal with four Utah counties to export coal through Oakland.
July 2015: After months of delay, Oakland's City Council agrees — on the day before activists hold a large demonstration outside City Hall demanding a ban on coal — to hold a hearing on the coal terminal.
September 2015: Hundreds of residents testify or support speakers at a public hearing before the Oakland City Council. The entire hearing can be viewed online. At the conclusion of the lengthy meeting, the council unanimously passes a resolution directing the City Administrator to request additional information, evaluate evidence submitted, and provide options (including an ordinance, a temporary emergency ordinance, a temporary moratorium, or other measures to protect health and/or safety) no later than December 8, 2015.
December 2015: Upon learning there would be an administrative status report at the City Council's December 8th meeting, but no options would be presented or discussed, the No Coal in Oakland campaign organizes a teach-in on the coal issue and related social justice concerns in Oakland. Panelists speak from No Coal in Oakland, the Oakland Citywide Network (fighting displacement), Black Lives Matter, and the Fight for Fifteen (campaigning for a livable minimum wage). Several hundred attend.
February 2016: A Sierra Club poll finds that 76% of Oakland voters oppose the coal export proposal. California State Senator Loni Hancock introduces a four-bill package to restrict coal exports through the state.
March 2016: The Utah State Legislature approves a bill to invest $53 million of public funds in OBOT in exchange for the right to ship millions of tons of Utah coal through Oakland for 66 years, ratifying the secret funding deal Oaklanders discovered a year before. No Coal in Oakland posts evidence that the company slated to operate the proposed coal terminal, though representing itself as Oakland-based and minority-run, is actually controlled by Bowie Resource Partners, a major coal company (now renamed Woverine Fuels); this conclusion is later verified by documents obtained through legal discovery in Oakland Bulk & Oversized Terminal, LLC vs. City of Oakland.
April 2016: Mayors of 11 East Bay cities urge Oakland's Mayor and City Council "to take action to reject the coal plan and protect the health and safety of our communities."
May 2016: California State Senator Loni Hancock's constituent poll finds 92% of respondents oppose the proposed coal-export terminal in Oakland.
June 2016: The Oakland City Council hears report summaries and community testimony, then votes 7-0 "to prohibit the storage and handling of coal and coak at bulk material facilities or terminals throughout the City of Oakland."
July 2016: The Oakland City Council unanimously confirms June's ban on coal in a second vote required by the city's rules.
August 2016: A report summarizing the No Coal in Oakland campaign's origins, strategy, tactics, organization, and key documents is completed and published.
December 2016: Oakland would-be coal developer Phil Tagami files a federal lawsuit seeking to overturn the city's coal ban ordinance.
April 2017: In the first major court skirmish, US District Judge Vince Chhabria signals he will issue a mixed set of rulings on motions brought by the City of Oakland and would-be intervenors, the Sierra Club and SF Baykeeper.
June 2017: Sierra Club and SF Baykeeper are granted intervenor status in the federal lawsuit, but Judge Chhabria denies two separate motions to dismiss coal-developer Tagami's claims.
October 2017: No Coal in Oakland publishes an open letter to Phil Tagami in East Bay newspapers. Over 1,800 individual signers and over sixty-six organizations call on Tagami to dismiss his lawsuit against the people of Oakland, and give up plans to build a coal export facility.
November 2017: Tagami files a motion for summary judgment in the United States District Court case Oakland Bulk & Oversized Terminal, LLC vs. City of Oakland.
December 2017: The City of Oakland and intervenors Sierra Club and SF Baykeeper move to dismiss Tagami-fronted coal industry lawsuit, and OBOT files its reply brief. The Center for Biological Diversity files an amicus brief for itself and four other environmental groups in support of the motions filed for summary judgment in the City of Oakland's favor. California Attorney General Xavier Becerra files an amicus brief in support of the City of Oakland's coal ban.
January 2018: A three-day trial is held on Oakland Bulk & Oversized Terminal, LLC vs. City of Oakland in US District Court, ending Friday, Jan 19th.
March 2018: No Coal in Oakland and allies launch a campaign targeting the Bank of Montreal for arranging financial backing of the proposed Oakland coal terminal, releasing a background paper on the coal terminal project and the bank's involvement (the background paper is also available in Spanish: traducción al español: Datos pertinentes sobre la terminal de carbón propuesta en Oakland, California).
May 2018: Judge Chhabria rules in favor of coal-developer Tagami; community groups commit to continuing the fight against an Oakland coal terminal. No Coal in Oakland issues its comments on the decision on May 16th.
June 2018: Oakland files an appeal of the US District Court ruling to invalidate application of the city's coal ban to the OBOT coal terminal project.
July 2018: No Coal in Oakland publicizes pledges secured from nearly two dozen officeholders and primary election candidates to refuse financial or other support from would-be coal developer Phil Tagami.
August 2018: The Bank of Montreal responds with posturing and evasion to No Coal in Oakland's letters demanding the bank withdraw from its role in arranging financing for the Oakland coal terminal project.
October 2018: U.S. Congresswoman Barbara Lee joins No Coal in Oakland's pledge to refuse support from coal developer Phil Tagami.
November 2018: Oakland cancels coal terminal lease for failure to meet critical construction milestones; in response, developer Phil Tagami threatens a second lawsuit.
December 2018: Would be coal developer Tagami launches a second lawsuit against the City of Oakland, this time in Alameda County Superior Court. A first round of briefs are filed in the appeal of Judge Chhabria's May ruling in Federal Court.
March 2019: Utah's largest coal producer signals it may have its sights set on building a coal shipment terminal in Ensenada, Mexico, should plans to build in Oakland fail.
June 2019: Tagami's second lawsuit is stayed pending resolution in the California Court of Appeal whether the lawsuit is barred by California's Anti-SLAPP Statute.
October 2019: A lobbying campaign to sway city officials, pastors, labor leaders, and other influential Oaklanders is exposed in documents filed in bankruptcy proceedings initiated in July by Insight Terminal Solutions, would-be operators of an Oakland coal terminal.
November 2019: Oral arguments in the City of Oakland's appeal of a May 2018 ruling by U.S. District Court Judge Vince Chhabria is heard by a three-judge panel of the Ninth Circuit Court of Appeals.
January 2020: No Coal in Oakland publishes an analysis of what is revealed by papers filed to-date in the Insight Terminal Solutions bankruptcy proceeding in summary form; the full analysis is also available on this website.
April 2020: A Japanese bank is challenged to apply its recently-announced limits on coal investment to the proposal to build coal export infrastructure in Oakland.
May 2020: A three-judge panel of the Ninth Circuit Court of Appeals rules against Oakland in a split decision. The fight is far from over, as evidenced by the City of Oakland's filing of a lawsuit the very next day for breach of contract in California Superior Court, seeking forfeiture of OBOT's lease of the West Gateway property where developers propose to site a coal terminal.
July 2020: A $20M pledge by Utah "coal counties" — Carbon, Emery, Sevier, and Sanpete — to bail out Insight Terminal Solutions (ITS) as a last-ditch effort to rescue the would-be builders of an Oakland coal terminal is exposed by Salt Lake Tribune reporter Brian Maffly. Though no formal move has been made to effect transfer of Utah money to ITS, bankruptcy court filings represent that these bailout funds are central to the West Gateway sublease-holder's plans to pay its debts.
August 2020: The Utah state legislature completed its special session without allocating $20M to bail out would-be coal terminal operator Insight Terminal Solutions (ITS), thanks to the work of a coalition of public interest and environmental activists. This development appears to throw a wrench in the machinations of ITS CEO John Siegel to emerge from bankruptcy still in control of the proposed West Gateway coal terminal project.
November 2020: In a Kentucky bankruptcy hearing on Election Day, November 3, 2020, Judge Joan Lloyd anointed hedge fund manager Vikas Tandon the CEO of Insight Terminal Solutions, awarding sole ownership of the company to Tandon's company, Autumn Wind Lending, LLC, to which ITS owed a major fraction of its debt under former CEO and coal executive John Siegel.
May 2021: In a meeting with anti-coal activists and attorneys, Vikas Tandon claimed he would develop the West Gateway site as a coal terminal unless the City granted him significant concessions. Activists read this demand as thinly-veiled extortion.
July 2021: Vikas Tandon's pursuit of a payout from the City of Oakland looked like extortion to CBS news channel KPIX when they interviewed Tandon's front-man Greg McConnell. As McConnell baldly put it, "Coal presents a certain level of revenue, and no coal is significantly less. The question is in terms of a settlement. How do we shrink the delta between no coal and coal, and close the gap?" KPIX broadcast the story behind a chyron reading "Concessions or Coal."
August 2021: The Utah Clean Infrastructure Coalition (of which NCIO is a member) released a report — Utah Oil Slick: Funding Polluters Instead of Rural Communities — showing that a government board charged with administering mineral lease royalty payments has funneled more than $109 million in public money to projects that promote or expand fossil fuel extraction, in violation of the federal Mineral Leasing Act.
September 2021: The Lost Coast Outpost reported that "Unidentified coal companies appear to be behind a new backdoor effort to acquire the North Coast Railroad Authority's right-of-way between Eureka and Willits and rehabilitate the defunct railroad, all so they can export coal to Asian markets via the Port of Humboldt Bay." California State Senator Mike McGuire introduced legislation to stop this threat in its tracks. The project is widely regarded as infeasible.
November 2021: A settlement of federal and state lawsuits gives the Levin-Richmond Terminal until Dec. 31, 2026, to end storage and handling of coal and pet coke. Richmond's City Council voted in 2020 to phase out these toxic commodities, allowing Levin-Richmond three years to comply. Fossil fuel interests responded by filing five lawsuits, claiming Richmond's coal ban violated the U.S Constitution and other laws. In settling, the fossil fuel plaintiffs dropped their fight against the ban in exchange for a delay in its enforcement.
February 2022: A "settlement framework" is announced by Oakland City Attorney Barbara Parker to resolve ongoing lawsuits filed by and against OBOT leaseholder Phil Tagami and allied parties. The terms, still under negotiation and not detailed by the parties, are expected to meet No Coal in Oakland's longstanding, core demand: to keep coal and pet coke out of Oakland.
March 2022: The trial scheduled for this month has been continued (postponed), pending the outcome of settlement talks between the City of Oakland and OBOT / Phil Tagami.
July 2022: Developer Phil Tagami breaks off settlement talks, and through hired-lobbyist Greg McConnell announces that "coal is back on the table." If a settlement is not reached beforehand, the matter will go to trial in April 2023.
December 2022: Judge Noël Wise of the Alameda County Superior Court reschedules OBOT & OGRE v. City of Oakland. The trial date is set to begin on July 10, 2023.
May 2023: No Coal in Oakland deflates a raft of disinformation sown by the hedge fund operators engaged in settlement talks with the City of Oakland. Later in the same month, the Oakland City Council hears from the City's youth opponents of the proposed West Oakland coal terminal.
June 2023: "Keep Coal Out Of Oakland" yard signs begin to sprout across Oakland, powered by a coalition of coal opponents. In a preliminary hearing, Judge Wise agreed to a motion by both parties in OBOT & OGRE v. City of Oakland to conduct a "bench trial," foregoing a jury in the trial still scheduled to begin on July 10th.
July 2023: The OBOT & OGRE v City of Oakland bench trial began with opening statements on July 10. The trial was in session on various dates in July, and tentative scheduling was set through August. NCIO maintained an ongoing "courtroom diary" news post with informal reports.
August 2023: As the OBOT v Oakland bench trial continues, NCIO continued to update a "courtroom diary" news post with informal reports. The final day of testimony in the first (liability) phase of the trial was August 31, reported on in the post Coal Trial Ends: Light at the End of the Tunnel?
September 2023: Motions and briefs were filed as the "liability" phase of the OBOT v Oakland bench trial moved toward closure. Closing arguments were scheduled for the morning of October 11. A brief report of a short hearing on September 19, on two key technical motions, is described in that date's entry of NCIO's courtroom diary.
October 2023: Closing arguments were presented in OBOT v Oakland on October 11. On October 27, Judge Wise published a "(Proposed) Statement of Decision" in the "liability" phase of the trial, finding that it was the City of Oakland, not the developers, who breached the lease. The next phase, the "Remedy Phase" will follow, with a mid-November hearing and that phase's testimony beginning on Tuesday, November 28, and anticipated to conclude no later than Friday December 1, 2023.