#DeCOALonize Oakland Boycott Tagami's Rotunda Building
November 21, 2017 @ 11:45 am

-

1:00 pm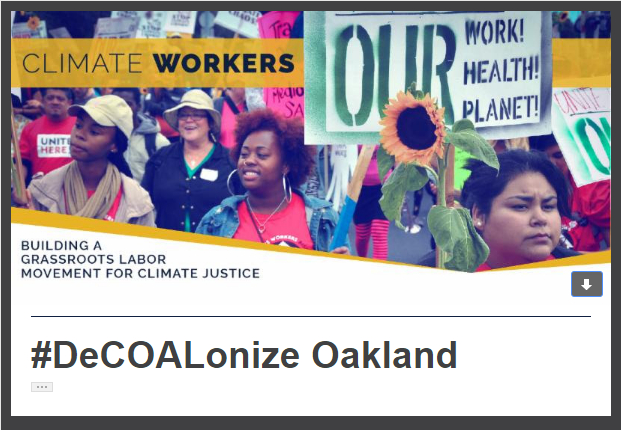 Please join NCIO in supporting this Climate Workers event at Phil Tagami's Rotunda Building in downtown Oakland:
Last year, Oakland developer Phil Tagami tried to build a coal transport terminal in our town. But workers, youth, and community members came together to win an historic ban on coal. Now Tagami is suing in Federal Court to try to force the City of Oakland to accept his dirty coal terminal. We're fighting back.
Last month, two hundred of us went to Phil Tagami's house in the hills. This month, we go to Tagami's Rotunda Building in downtown to launch a boycott of his swanky event space. Every dollar spent at the Rotunda Building is a dollar that Phil Tagami can use to try to force toxic coal dust on working class black and brown communities in Oakland.
Join us Tuesday, November 21st from 11:45AM to 1PM at the Oakland Rotunda Building to put Tagami on notice that any events booked from this date forward until the day Tagami drops his lawsuit should expect picket lines.
After a raucous practice picket, we will enjoy a community meal prepared by the youth of Abundant Beginnings — a reminder that we can hold celebrations in community, not just in the decadent digs of developers. Please note: this is not a "Thanksgiving" meal. We reject the genocidal roots of Thanksgiving and stand with indigenous peoples fighting for land, water, air, and sovereignty.
Join us for an art party to support the action on Saturday, Nov. 18th from 2-4PM. Location TBA.
For more information, contact Climate Workers at 510-846-0766 or at brooke@climateworkers.org.
#DeCOALonizeOakland #BoycottTheRotunda #DroptheLawsuit #TrynaBreathe #Youth4CleanAir #Workers4CleanAir