Open Letter to Phil Tagami – Signatories
Organizational and individual signatories to No Coal in Oakland's Open Letter to Phil Tagami are listed below the text of the letter. Sixty-eight organizations and over 1,900 individuals have signed the Open letter. The open letter was published in the East Bay Express and the Oakland Post in late October 2017.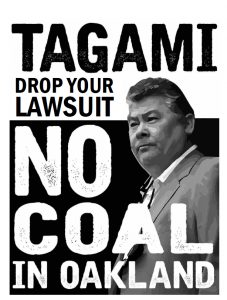 We call on Phil Tagami to dismiss his lawsuit against the people of Oakland and give up his plan to build the largest coal export facility on the West Coast right here in Oakland. It is time for him to come up with a cleaner, safer, healthier, and more sustainable use for Oakland's publicly-owned West Gateway.
We support the City Council's decision in July 2016 to ban coal storage and handling in Oakland. Rather than accept the will of the people, who collectively have contributed nearly $500 million in local, state, and federal funds to redevelop the former Oakland Army Base, Tagami hired one of the richest law firms in the world to sue Oakland, claiming our ban on coal violates his Constitutional rights.
By pursuing litigation that could last for years, he is putting off the creation of jobs that he promised and Oakland residents desperately need now–and diverting city funds to legal defense that would be better spent to meet the needs of Oakland residents. By insisting on his right to ship coal when the world is turning away from coal, he is chasing his own quick profits from building a coal terminal while taxpayers will be left holding the bag when the coal export scheme collapses.
We ask Phil Tagami to drop his lawsuit and get to work on a plan that makes sense for one of the few remaining undeveloped parcels on our public waterfront. NO COAL IN OAKLAND!
Organizational Signatories (last update: 6 November 2017)
350 Bay Area
350 East Bay
350 Silicon Valley
Africans Deserve Reparations Now!
Alameda County Interfaith Climate Action Network
All Souls Episcopal Parish
Antiques by the Bay, Inc.
Artha Handmade Soaps
Asian Pacific Environmental Network
Bay Area Labor Committee for Peace and Justice
Benicians for a Safe and Healthy Community
Berkeley/East Bay Gray Panthers
Block by Block Organizing Network
California Interfaith Power & Light
Causa Justa :: Just Cause
Center for Biological Diversity
Center for Environmental Health
Church and Society Committee, Buena Vista United Methodist Church
Church by the Side of the Road
Citizens Climate Lobby – Alameda Chapter
Clean Water Action (California)
Coalition for Clean Air
Codepink Women for Peace
Communities for a Better Environment
Contra Costa Citizens Climate Lobby
Cool Planet Working Group – First Presbyterian Church of Palo Alto
Diablo Rising Tide
Earth Justice Task Force – Lakeshore Avenue Baptist Church
El Cerrito Progressives
Food & Water Watch
Fossil Free California
Friends of the Earth
Grand Lake Theater
Green Party of Alameda County
Greenaction for Health and Environmental Justice
Hills Conservation Network
Idle No More SF Bay
Interfaith Climate Action Network of the Interfaith Council of Contra Costa County
John George Democratic Club
Kehilla Community Synagogue Greening Committee
Lamorinda Peace and Justice Group
Local Clean Energy Alliance
Mujeres Unidas y Activas
North American Climate, Conservation and Environment (NACCE)
Oakland Climate Action Coalition
Oakland Justice Coalition
Oakland Peace Center
Oakland Rising
Peninsula Interfaith Climate Action Network (PICA)
Physicians for Social Responsibility – San Francisco Bay Area Chapter
Planting Justice
Plus M Productions
Public Advocates Inc.
Rainforest Action Network
Reimagine! Race, Poverty & the Environment
Rootskeeper
SEIU Local 1021
Skyline Community Church, United Church of Christ
Stand.earth
Strike Debt Bay Area
Sunflower Alliance
Sunrise Movement Bay Area
Sustainable Economies Law Center
System Change Not Climate Change – Bay Area
United Native Americans
Wellstone Democratic Renewal Club
West Oakland Environmental Indicators Project
West Oakland Neighbors
Individual Signatories (alphabetical, by last name; last update: 12 November 2017)
Ariel Aaronson-Eves * Alice Abbott * David Abel * Sally Abrams * Mia-Paola Aceves * Traci Aceves * Alexander Acuna * Connie Adachi * Sheridan Adams * Minda Agahob * Shariar Aghamir * Stephen Akerson * Salma Alba * Sergio Aldana * Emmett Aleem * Maggie Alelkuisue * Rosemary Alex * Jegath Alhilingam * Jahahara Amen-RA Alkebulan-Ma'at * Jason Allen * Michaell Allen * Oatheri Allren * Diana Allyne * Martha Naomi Alt * Donald L Alter * Emiliano Amaro * Carl N Anderson * Don Anderson * Grace Anderson * Knute Anderson * Tim Anderson * Virginia Anderson * Bert Andrews * Payton Andrews * Clark Andrez * Bradley Angel * Victoria Becker, ANP * Carl Anthony * Doug Anthony * Joe Kue Anweres * Janan Apaydin * Fnan Araia * Chrisstin Aranita * Beatrice Arbaiza * Gretya Arevalo * Alejandra Arias * Charles Arkens * Molly Armstrong * Janet Arnold * Anne Aronor * Nicole Aruda * Nathaniel Aseas * Gaelan Ash * Alan Ashford * Janet Ashley * Yohanne Asltw * Steve Asztalos * Tom Athanasiou * Jake Atkinson * Lois Snipes Atkinson * Isa Aton * Scott Atthowe * Frances Aubrey * Karen Axelsson * Joe Ayala * Mandana Azimi * Dennis Bader * Mark Badger * Christine Baelz * Eric Bahm * Anne Bailey * Brenda Bailey * Darryl Bailey * Frances Bairs * Fiona Baker * Paula Baker * Stuart Baker * Suzanne Baker * Bill Balderston * Michaela Baller * Judy Ballinger * Mel Bandle * Diana Bang * Carrie Banks * Lamar Banks * Tsehayn Bantidagne * Stacey Bantleg * MaAn H. Barcelo * Neal Barenblat * LaStarla Barker * Tyler Barnhart * Crystal Barr * Casey Barrett * Jackie Barshak * Anissa Barwena * Juliet Bashore * Marie J. Bates * Nelsy Batista * Jill Battalen * Dale Baum * Laurie Baumgarten * Richard Bautista * Deborah Bayer * Sandya Beck * Alexis Becker * Sally de Becker * Gesina Beckest * Gregory Beduch * Liz Beechler * Rick Beeman * Allen Beene * Claudette Begin * Melville Behrendt * Derrick Beil * Nic Bekaert * Judy Belcher * Emily Belisie * Benjamin Bell * David Bell * Richard Bell * Tommy Bell * Alejandra Beltran * Richard Benigno * Nirmala Benin * Kendra Benttinen * Barbara Benzwi * Elissa Berall * Christina Berba * Paula Berber * Pearl Berchenko * Ruth Bergen * Susan Bergman * Alexey Berlind * Robert Bernal * Natalie Berns * Paul Bernstein * Machelle Berry * Charles Berthia * Jonathan Besson * M. Biagini * Marinh Binsacld * Kamla Birusingh * Sascha Bittner * Cristelle Blackford * A. Blair * Sandra Blair * Jason Blalock * Nigel Blampild * Daniel Blanchard * Paul Blasenheim * Barbara Blong * Amanda Bloom * Steve Bloom * Brenda Bloomfield * Gina Blus * Ashlyn Bnuan * Debbie Boce * Wendy Boester * Susan Boggiano * Carol Bohnsack * Laura Boles * Monica DeRaspe Bolles * Carolyn Bolton * Leslie Bonett * Samantha Boscia * Zre Bott * Claire Boudreaux * Karen Bouris * John Bourne * Laura Boutelle * Vickie Bower * Katherine L. Bowman * Marcia Boyd * Jessy Bradish * Kelly Brainard * Sarah Branon * Donna Bransford * June Brashares * Mandy Bratt * Diana Braun * Lloyd Bravewolf * Barbara Bream * Robert Breckenridge * Shella Brenner * Nancy Breslin * Quanah Parker Brightman * Harry Brill * Sebastian Brito * Bob Britton * Rachel Broadwin * Steve Bronson * JoAnn Brookes * K. Douglas Brooms * Molly Brostrom * Ellen Brotsky * Ashley Brown * Catherine Brown * Clair Brown * Dameion Brown * Deborah Brown * Laurie Brown * Misao Brown * Nube Brown * Savannah Brown * Tony Brown * Vicky Brown * Edie Bruce * Steven Brummand * Cathryn Bruno * Christopher P. Bruno * Jack Bryson * Genevieve Bukowski * Amelia Bunch * Cade Bundrick * Merrie Bunt * Mika Burendash * Ralf Burgert * Judi Burle * Jaime Burnell * Shirley Burnell * Demitrius Burnett * Steve Butler * Elizabeth Butuin * Susan Byers * Audrey Byrne * Rob Byrne * Lisa Cahn * R. Caldera * Christine Caldwell * Beverley Calvo * Nicole Camarda * Renee Cameto * Malcolm Campbell * Kim Campisano * Shawnee Canjura * Noah Canton * Pamela Caples * Ebony Caraballo * Mia Carbajal * Maricelle Cardenas * Lisa Carey * Ray Carona * Brett Carr * Allen Carroll * Linda Carroll * Olga Carroll * Danny Carson * Brenda Carter * Graham Carter * Vincent Casalaina * Mary-Ann Casanova * Sandy Cashmark * Ellie Casson * Diego Castellanos * Janny Castillo * Tony Castillo * Michelle Castro * Sophia Catalano * Yolanda Catillo * Ruscal Cayangyang * Annette Cayot * Judy Cayot * Janice Cecil * Aaron De La Cerda * Darlene Ceremello * Bradley Ceynowa * Ken Chambers * Sue S. Chan * Sue Chan * Larry Chang * R. Chang * Paul Chapman * Mahin Charles * Agnes Rose Chavez * Louise Chegwidden * Bokai Cheng * Christine Cherdbonmuang * Alyssa Cheung * Phallaraingsey Chhay * Rev. Marilyn Chilcote * Marilyn Chin * Nathan Chin * Paul Chin * Wesley Chipeco * Tendui Chiteliere * Deborah Choi * Phoenix Chong * William Chorneau * Ana Chow * Umaporn Chudthong * Michael Cilley * Brian Cipriano * Bessie Citrin * Libby Clark * Willetta Clark * Mikoka Clarrman * Julie Clemens * Josh Cleveland * Liz Cleveland * Trish Clifford * Nanci Clifton * Richard Bruce Cluster * David Mc Coard * Jevon Cochran * Mary Coffield * Hadar Cohen * Dinesha Colema * Katherine Collett * George Collier * Jane F. Collier * Zipporah Collins * Mary Anne Colwell * Kerry Compton * Cat Conklin * Lynell Conley * Erin Conner * Avid Contractor * Elsa Contreras * Ivka Conway * Debbie Cooper * Isadore Cooper * Thomas Cooper * Will Cooper * Mark A. Coplan * Caitlin Cornwall * Tom Coroneos * Beverly Correa * Francoise In Costa * Robert Costa * Julissa Cotillo * Laura Counts * Ellie Covington * Richard Cowan * Max Cowth * Alex Cox * Lucinda Cox * Launa Craig * K. C. Cramer * Mary Ann Cramer * Donna Crawford * Megan Crawford * Erin Creel * Ariel Cromny * Linda Crone * Brian Cronin * Jon Crowder * Steven Crowell * Demane Crump * Terry Crunity * Dana Culpepper * Marie Cumming * Aneman Cummings * Laird Cummings * Marie A. Cummings * Kat Cumpau * Elizabeth Cunningham * Francisca Cunningham * Hope Cupples * Linda Currie * P. Curry-Bossett * Danielle Dai * Loring Dales * Deide Dan * Beverly Dance * Sarah Dandridge * Rev. Ben Daniel * Maxine H. Mica Daniel * Michelle Danna * Larry Danos * Lisa Danz * Carolyn Daoust * Pamela Darington * Alegra Dashielle * Peggy Datz * Tanilmara Davals * Ethan Davidson * Attieno Davis * Dave Davis * Elana Davis * Greg Davis * Grover Davis * Karla Davis * Pamela Davis * Rick Davis * Bronwyn Dawson * Stevi Dawson * Katherine Day * Tracy Day * Gopal Dayaneni * I. Dayrit * D. Dean * Sandra Dean * Miguel DeAvila * Daniel Deck * Mark Decker * Matt Dee * Mercedes Delaton * Rhodora DeLeon * Rita Delgado * Donna Dell"Era * Cathy Den * Athena Deng * Kathy Dervin * Nick Despota * Patricia Deuter * Robin Devaux * Joe DeVries * Sally Dew * Justin deWolfe * Michael Diamond * Matt Dibble * Helen Dickey * Julianna Dickey * Harold Dickson * Sarah B. Diehl * Olja Dimitrijenc * Thah Dinh * Ines Diot * Jason Ditzian * Lauren Ditzian * Brett Dixon * Rebecca Dixon * Alex Do * Bree Doan * Elizabeth Dodge * Gabe Dominguez * Michael A. Donaldson * Annemarie Donjacour * Jim Dorenkott * Domineque Dorham * Kym Dorman * Maria Dorsey * Isaiah Dortch * Anne Doty * Rita M. Dougherty * Cloudell Douglas * Doug Dove * Joanne Drabek * Carol Draizen * Tessa Drem * Linda Drey-Nightingale * Bizwaychie Dribel * Helen Duffy * Mark Duffy * Terri Dun * Edward Dunbar * Jeff Duneman * Lisa Dungan * Paul Dunn-Ruiz * Guillermo Durgin * Jan Van Dusen * Kristin Dwelley * Andrea J. T. Dyson * Albert Dytch * Gayle Eads * Alex Early * Sharonda Easiley * Ami Eaton * Carly Ebben Eaton * Linda Eby * Karyl Eckels * James Eckroad * Kathy Eckroad * Jo Edel * Marcia Edelen * Blake Edgar * Zamien Edmonson * Rashod Edwards * Arebo Egba * Laurel Egenberger * Beth Eicheverry * Michael Eisenscher * Scott Elder * Eliance Elias * Morgen B. Elizabethchild * Judy Elkan * Ayman Elkfrawy * J. Elkin * Amanda Elkins * Heather Elliott * Lloyd Elliott * Sally Elliott * Melanie Elms * Taylor Elniccsi * Matt Elser * Addis Embiyalow * Sandy Emerson * Ashley Emery * Elena Engel * Mary Engle * Michael Engman * Gil Epis * Ida Epstein * Rosalyn Epstein * Yvonne Escarsega * Janet Esteves * Alejandro Estrada * Jean Evans * Michele Evans * Jeanne L Ewy * Hayta Fader * Yael Falicov * Steven Falk * Lili Farhang * Josepha Fath * Taurean Feaster * Sharon Fee * Jessica Feeney * Gina Feifle * Hal Feiger * Armida Fensler * Michael Ferencik * Elizabeth Ferguson * Adnana Fernandez * Angela Fernandez * Carolyn Dal Ferro * Benjamin Fife * Greta Fillingim * Jerry Fillingim * Doris Fillion * Margene Filson * Alison Finlay * Fiona Finley * Rani Fischer * David Fisher * Kathryn Fitzgerald * Evan Fitzhugh * Anne Fitzmaurice * Toni Fitzpatrick * Avi Flamholz * Laura Flaxman * Jack Lucero Fleck * Zoe Fleener * Pippa Fleming * Jude Fletcher * Richard Flittie * Corinne Florek * Alicia Flores * Noe Flores * Meredith Florin * Emily Flors * Michael Flory * Anita Flynn * Nancy Flynn * Slobain Flynn * Liam Flynn-Jambeck * Teresa Foglin * Bartley Fong * Lotus Yee Fong * Ida Foo * lora jo foo * Abbot Foote * Kathleen R. Ford * Jennifer Formosa * Anthony Forrest * Michael Forrey * Mary Forte * Donald Fortescue * Hazlyn Fortune * Renata Foucre * Cynthia Fowler * Pete Fpmg * E. Frank * Ellen Frank * Rebecca Franke * Many Franklin * Ted Franklin * Ellen Franzen * Robert Fraser * Tom Fratar * Jocelyn Fre * Dave Freckleton * Linda Freed * Michael Freeman * Richard Freeman * Cindy Freid * Phyllis French * Michelle Frey * Martha Friedberg * Teresa Friedheim * Spring Friedlander * Jill Friedman * Nancy M Friedman * U. Frydman * Donna Fujioka * Michael Fullerton * Terry J. Fundan * Mary Ann Furda * Carla Gaines * Alejandro Galdos * Gabriela Galicia * Kate Gallagher * Carlos H. Gallega * Laura Galligan * Maria Gallo * Noel Gallo * Barry Galvin * Mary E. Gamsen * Ankush Ganapathy * Anne Marie Garcia * Diego M Garcia * Felipe Garcia * Vicente Garcia * Linda Gardner * Sanjay Garla * Diana Garoener * David F. Gassman * Carla Gassne * John Gatewood * Jason Gavazzo * Suki Gear * Jacob Gelender * Katherine Genis * Jack Gerson * Mara Gerson * Michelle Gerson * Zeke Gerwein * Joel Gerwien * Karissa Geshke * Terri Giamardure * Jewellen T. Gibbs * Keith Gibbs * Meagan Gibeson * Mercedes Gibson * Ayesha Gill * David Gill * Mandeep Gill * Zachary Gill * Jeff Gilliland * Andy Gillis * Francisca Gilmore * Rachel Ginsburg * Roberto Giordano * Alyssa Glaehim * Jean Gleason * Erica Dean Glenn * Katie Gluck * Diane Goff * Fred Goff * Ruby Goldbert * Adam Goldenberg * Suzi Goldmacher * Pokerfu Goldsby * Kurt Gollhardt * Shirley Golub * Lena Gomes * Joseph Gonsalves * Anthony G. Gonzales * Carlos Gonzalez * Eddie Gonzalez * Rafael J. González * Kate Goodin * Esther Goolsby * Narayan Gopinathan * John Gordon * Marc Gordon * Trish Gorham * Amy Gorman * Greg Gorman * Solange Gould * Lama Graham * Libby Granett * Harvey Green * Ora Green * Willie Green * Lexi Greenberg * Zina Greenlow * Jessea Greenman * Holly Grench * Carol Griffin * Chris Griffin * Steve Gross * Leanne Grossman * Mark Grossman * Nori Grossmann * Joseph Gudino * Elsa Guerra * Natasha Vella Guerra * Emlyn Guiney * Karen Guma * Simon Gunner * Jeanette von Gunter * Nissa Gustafson * Santos Gutierrez * Dr. Rebecca de Guzman * Bill Gwynar * Chaire Haas * Al Haggett * Marg Hall * Nancee Hall * Pamela Hall * Annie Hallatt * Khalil Hamaid * Violaine Hamel * Kelly Hammar * Roger Hammar * Kelly Hammargren * Hali Hammer * Ross Hammond * Sarah Han * John Hanavan * Carolyn Hand * Esther Hargis * Karla Hargrave * Susan Harman * Katharine Harper * Angela Harris * Melinda Harris * Nina Harris * Sheila Harris * Norma Harrison * Robin Harrison * Hani Hartman * Sarah Hartmann * Jeff Hartsough * Brit Harvey * Colina Harvey * Fred Harvey * William Harvey * Yossi Hasperio * Leslie Hassberg * Margaret Hasselman * Tamara Thomas Hathaway * Laure Haworth * Barbara Haya * Max Hayashi * Catrina Hayes * Laura Heid * Connie Heller * Troy A Helming * Jacole Helmuth * Kim Helmuth * Larry Hendel * Amber Hendershot * Elizabeth Henderson * Kyla Henderson * Yogi Hendlin * Toni Henle * Barbara Hennings * Marcia Henry * David Heonger * Bobbie Her * Lisa Hernan * Jesus Hernandez * Xavier Hernandez * Analisa Herrera * Eve Hershcovf * Susan Herting * William Herwood * Sylvie Hessini * Cassiopee Hett * Carlos Hickerson * Maria Hilao * Kathleen Hill * Matt Hill * Rachael Hill * Timothy Hill * Daniel Hilsinger * W. Hilton * Lori Hines * Priscilla Hinman * Gennarose Hinto * Sherry Hirsch * Elhan Hljandidi * Chelsea Hodge * Eveline Hodges * Hannah Hodgson * Michael Hoexter * Brian Hofer * Erik Hoffman * Jason Holder * Lizzie Holloway * Lila Holzman * Rebecca Hom * Katherine Hong * Corrine Van Hoor-Turner * Jim Hopkins * J. A. Horsburgh * Charles Howard * Mariah Howard * Harold Howell * Rosemary Howley * Amber Hoy * Kim Hraca * Taica Hsu * Lisa Hu * Crystal Huang * Dylan Huber * E. Hubert * Marie Hudson * Rachele Huennekens * Jack Huff * Gary Graham Hughes * Margaret Hulbert * Jo Humiel * Joann R. Hummel * Nona Hungate * Bret Hunt * Peg Hunter * Talya Husband-Hawkin * Sarah J. Hussey * Susan Hutchens * Elizabeth Hutchins * Arthur Hutchinson * Janice Hutchinson * Susan Hybloom * Candace Hyde-Wang * Diane Ichiga * Audrey Ichinose * Mark Idleman * N. Williams III * Daniel Ilario * Taku Imagawa * Emil Irenae * Nancy Isaksen * F. Ishihara * Deangelo Jackson * Sharon Jackson * Kenneth Jacobson * Susan Jacobson * Reisa Jaffe * Denise James * Greg Jan * Susan Jardin * Risa Jaroslow * Joanne Jasson * Maranatha Javines * Cynthis Jay * Desmond Jeffries * Pastor Anthony Jenkins * Judy Jensen * Kathy Jessen * Lauren Jewett * Tania Jogesh * Aaron Johnson * Amy Johnson * Cynthia Johnson * Dashiel Johnson * Delores Johnson * Elsa Johnson * Janet Johnson * Joe Johnson * Juliana Johnson * Karen Johnson * Kierra Johnson * Midori Johnson * Ray Johnson * Sarah Johnson * Torger Johnson * Todd Jolly * Carl Jones * Craig Jones * Jay Jones * Terrel Jones * Keyy Jong * Mary Jonlick * Aaron Lang Jr. * Billy Trice Jr. * Eddie Aranola Jr. * J. Alfred Smith, Jr. * James L. Gibbs, Jr. * Sally Juarez * Michael Judge * Dylan Jutt * Mandolin Kadera-Redmond * Dave Kadlecek * Noah Kahn * Rachel Kahn-Hut * Linda Kallenberger * Sharon Kallenberger * Jeremy Kallir * Mary Kallock * Ritu Kamal * Ruby Kane * Tony Kang * Allen Kanner * Saied Karamooz * Aviva Kardener * Jean Karlik * Hannah Karpilow * Elliot Katz * Rachel Katz * Anthony Kaufman * Michael Kaufman * Navi Kaur * Nevus Kave * Christopher Kay * Stephanie Kay * David L Keeler * Susan Keiter * Ben Keller * Andrew Kellog * Clark Kellogg * Ash Kelly * Logan Kelly * Tom Kelly * Nancy Kempf * Leon Kennedy * Patrick M. Kennedy * Ingrid Kepler-May * Kimberly Kerlin * Kamaria Kermah * Alex Kerne * Carolyn Kernkamp * Christine Kerr * Kathy Kerridge * Manish Khanal * Nora M. Khouri * Virginia Kibunja * Karen Kidd * Ray Kidd * Carol Kiing * Joan Kiley * April Kim * Helena Kim * Martha Kimmicly * Jack Kincaid * Justin King * Madi King * Pamela M. King * Steve King * Tim Kingwell * Allysyn Kiplinger * Adam Kirshbaum * Amy Kiser * Betty Kissilove * George Klanzing * Katrina Kleeknik * Elyce Klein * Judy Klein * Joyce Kleinjan * Donald Klose * Bob Knight * Karl Knobler * Martha Knobler * Carolyn Knoll * Helene Knox, Ph.D. * Tomi Kobara * Cheryl Koehler * Matthew Koester * Erica Kolodny * Lori Koon * Kim Koop * Pat Koren * Marilyn Kosuiski * Rev. Earl W. Koteen * Reiden Kratzer * Martha Kreeger * Judy Kriege * Robyn Krieger * Diane Kuderna * Albert Kueffner * Rev. Kurt A. Kuhwald * Laura Kurtz * Sabrina Kwist * Eunice Kwon * Elizabeth Kwong * Pierre Labossiere * Mary Lake * Ryan LaLonde * Morgan A. LaManna * Dr. Linus Lancaster * Cynthia Landry * Harrison Lane * Adrian Lang * Louisa Lang * John Lango * Allen Langston * Carol L. Larkin * Eric Larsen * Sherry Larsen-Beville * Brandon Larson * Joan Larson * Karen Lassen * Ann Lauelst * R. B. Lauron * Sharon Lawless * Cam Le * Cuc Le * Elizabeth Le * Cole Lea * Scott Leathers * Russ Lebovitz * Robyn Lederer * Anna Lee * Caroline Lee * Jackie Lee * Patricia Lee * Teri Lee * Cate Leger * Jessica Lehman * Glen Van Lehn * Genevieve Leja * Charles Lemar * Julienne Lemoine * Joanna Lemon * Kate Lenhardt * Vate Lenn * Alexander J. Leon * Victoria Leonard * Renee Lepreau * Helena Lerna * Andrea Lerner * Reginald Leub * Carole S. Levenson * Ingrid Leverett * Denise Levin * Josh Levine * Margarita Levisi * Kim Lewis * Maxine Lewis * Rita Lewis * Susan Lheureux * Joan Lichterman * J. D. Limelight * Miles Lincoln * Chris Lindes * Justin Linfors * Ezra Lintner * Linda Lipscomb * Greg Littlehales * Dan Littman * Judith Litwin * Julie B. Litwin * Steven Liu * Cynthia Lloyd * Victor Lngrassen * Susan Lo * Brooke Lobes * Bonnie Lockhart * Jerriane Lockhart * Robert Loebl * Nancy London * C. A. Lonergan * Elio Longabardi * Sig Longhouse * Kristen Elizabeth Loomis * Clara Lopez * Melissa Lopez * Christina Lopez-Jackson * Raphy Loren * Olivia Lott * Brian Loughane * Clifton Louie * Robin Love * Marcia Lovelace * Keith Lovitt * Steve Lowe * Z. Lowe * Rachel Lowy * Beverly Loyo * Mui Luang * Jihl C. Lubenan * Lan Luc * Sierra Luce * Thomas Luce * Suzanne Ludlum * Irina Lukban * Leslie Lundeen * Cassidy Lundy * Linda Lustig * Jim Lutz * Kim Ly * Kristin Lynch * Juliana Lynn * Rev. Max Lynn * Susan Lyon * Anthony Lyons * Janice L. Kirsch, M.D., M.P.H. * Michelle Ma * Peter Maass * Dirk Macdonald * Karin MacDonald * Pierce Macdonald-Powell * Jason MacDougall * Tamara Macintyre * Martin MacKerel * Michael MacLafferty * Don Macleay * Kristi MacLeod * Jack Macy * Virginia Madsen * Alberta Maged * Elaine Magree * Cathy Mahoney * Don Mahoney * Aaron Maietta * J. Majer * Joseph Majer * Manuel Major * Annie Mak * Lewis Maldonado * Jeremy Malvo * Melissa Mandel * Vrinda Manglik * Cole Manley * Kevin Mann * Rev. Laurie Jean Manning * Lindsey Manning * David Marcus * Jane A. Margold * Rina Margolin * Kimberly Markison * Amelia Marshall * James Martel * Deidre Martin * Jason Martin * Roderick Martin * Anna Martinez * Enrique Martinez * Samuel Martinez * John Martoni * Carl Mason * Steve Masover * James Massar * Dave Massem * Todd Masteller * Michel P. Mathis * Judy Matlock * Caleb Matrer * Kate Matthew * Regina Matthew * Janet Maughan * Miles Maurino * Susan McAllister * Barbara McAuley * Sandra Lee McCaber * Michael McCown * Mel McCrea * Sue McCullough * Janet McFarland * Tom McGarrell * Rev. Will McGarvey * David McGuinness * Kelsie McInnis * Terry Lynn McIntosh * Thomas McKennie * Helen McKinley * Alex McKleroy * Raleigh McLemore * Karen McLennan * Marilyn McMahon * Nick McNabb * Peter McQuaid * Mike McVey * Anne McWilliams * Jessica Fielden, MD * Li-hsia Wang, MD * Mary Sue Meads * Mette Mecheln * Jessica Medina * Kim Medina * Jared Mednick * Jason Meggs * Wendy Meikel * Anibal Mejia * Alissa Meleyco * Pamela Melvin * Catherine Mencher * Rose Mendelsohn * Paul J. Meola * Winston Merchan * Christina Merlo * Craig Merrilees * Paul Merriwether * Johann Metzgar * Zachary Michaels * Joseph Miguel * Javier Mijea-Cuceria * Tanesha Mikkelson * Christine Milk * Andy Miller * Bennett Stein Miller * Colin Miller * Dan Miller * Gordon Miller * Jane Miller * Nanci Miller * Rachel Miller * Robert Miller * Tara Miller * Vanessa Miller * Wendy Miller * Eric Mills * Sarah Milne * Imani Milon * Quenelle Minet * Cheryl Mintun-Whipper * Taliah Mirmalek * Steven Miyamoto * Shari Mizuo * Joel Moalen * Noa Mohlabase * Alison Monroe * Jerome Montano * Ligia Montano * Spring Montes * Donal Mooney * Alicia Moore * Kimberly Moore * Jaquon Morales * Joan Moreno * Kirstin Morgan * Noreen Morgan * Vanessa Mornes * Toni Morozumi * Barbara Morrissette * Jillian Morrissey * Ayana Morse * Micaela Morse * Shirin Morton-McClimary * Jayne Moser * Jean Moses * C. Mosley * Jonan Most * Emma Moulton * Fran Moulton * Joanne De Phillips, MD, MPH * Thomas B. Newman, MD, MPH * Annie Mroz * Joan Mueller * Jannat Muhammad * Justin Mullon * Kevin Mulvey * Mildred Munsey * Colin Murphy * Laura Muschietti * Tabi Musselwhite * Ryan Mykita * Suicher Myncoz * Debbie Mytels * Nancy Nadel * Steve Nadel * Tomi Nagai-Rothe * Kathleen Nagel * Judy Nakadegawa * Keith Nakatani * Choucey Nann * Mohamed Nashd * Charles Navarro * Hilary Near * Heidi Nelson * Jesse Nelson * Ray Nelson * Susan Newman * Max Newton * Christina Ng * Andie Nguyen * Judy Nguyen * Mychi Nguyen * Thao Nguyen * Thau Nguyen * Tochau Nguyen * Tuyen Nguyen * Van Nguyen * Max Nichols * Moira Nichols * Nicholas Nickolas * Y. Armando Nieto * Marie Nightingale * Mirtha Ninayahuar * Bruna Niz * Kerry Noh * Michele Nora * Carolyn Norr * Henry Norr * Zoe Novic * Rev. Kit Novotny * Magret Nunes * Linda Nunnally * Kurt Nutting * Philip Obband * Maddy Oden * Veleda Odon * Cath O'Hara * John O'Hegan * Leanna Olander * Kim Olin * Beverly Olsen * Janna L. Olson * Olu Oluwole Sr. * Linda Olvera * Lark Omura * Kathryn O'Neil * Megan O'Neil * Devlin O'Neill * Megan O'Neill * Keren Ong * Steve Ongerth * Kaya Ono * Patrick C. O'Reilly * Christopher Orescan * Kathryn Orfin * Karen O'Rourke * Alex Orozco * Zvika Orr * Robert D Orser * Karen Orsulak * Ingrid Ortega * Isaac Ortega * Kathy Ortega * Alexa Ortiz * Ashley Ortiz * Dante Ortiz * Krystal Osborne * Laura Osburn * David Ourisman * Liz Ozselak * Janet Ozzard * Sonia Mendoza Pablo * Ernot Pacheco * Jeramy Pack * Kevin Packard * Liz Pallatto * Esperanza Pallau * Jeff Palmer * Shawn Paning * Cynthia Papermaster * Karolo Paricio * George Parisette * Wendy Park * Alexis Parker * Lane Parker * Nancy Parker * R Parker * Timothy J Parker * Jessica Parry * Krystle Pasco * J. Julie Passarelli * Imam Rashid Patch * Michael A. Patch * Kiran Patel * Laura Patnode * Glenda Pausey * Paloma Pavel * Sandra Paythes * Khelsey Pe * Brandon Peck * Kelby Peeler * Sutton Peirce * Eddie Perdamo * Elise Perelman * Antonia Perez * Julian Perez * Nando Perez * Mike Perlmuth * Jena Perry * Peter Perry * Robyn Perry * Roger Peterman * Ross Peters * Elaine Peterson * Karin Peterson * Lanie Peterson * Christian Petke * Kathleen Petricca * Mong Thu Pham * Tiffany Pham * Alia Phelps * Amy Pierre * Bill Pinkham * Maria Pinto * Dan Pioletti * Caroline Piper * Steven Pitts * Jose Plascencia * Kelley Plasterer * Stew Plock * Sarah Plummer * Adele Poeisch * Maren Poitras * Nancy Polin * Katy Polony * John Pomeroy * Loraine Poormiller * Rita Poppenk * Lorrane Pornner * Ellis J. Powell * Kathryn Pratt * Marcia Pratt * Mary Pratt * Elizabeth Preston * Terry Preston * Stefanie Priegel * Rebecca Proehl * Jim Prola * Micaela Pronio * Cheryl Prowell * Sheri Prudhomme * Crystal Pryor * Johnathan Puern * Ann Puntch * Kristen Pursley * Jay Quigley * Star Rabinowitz * Monica Raden * Kathy Radez * Augustine Ramos * Z. Ramos * Jane Ramp * Kenneth Rangel * Sara Rankin * Tom Rankin * Jeanne Rann * Madeleine Ranson * Aditi Rao * Linda Ray * Aki Raymer * Paul W. Rea * Aaron Reaven * Diane Reed * Luther Reed * Kelsey Reedy * Maureen Rees * Betsy Reeves * Chad Reid * Tara Reinertson * Dani Renan * Rona Renner * Paris Renney * Marilyn Renolds * Flavleno Christian Reyes * Rosie M. Reza * Barbara Rhine * Kenneth Rice * Joseph Rich * Katie Rich * Justin Richandson * Bonita Richman * Karen Ridge * Nancy Rielle * Walter Riley * Erica Rippe * Yeymi Rivas * Angel Rivens * Jerry Rivers * Penny Scott, RN * Marti Roach * Lindsey Roar * Linda Roberts * Whitney Roberts * Curtis O. Robinson, Sr. * Dina Robinson * James Robinson * Rochelle Rodgers * Mindy Rodman * Darfiny Rodriguez * Gloria Rodriguez * Marlo Rodriguez * Merralys S. Rodriguez * Julia Rodriquez * Michael Rodriquez * Derek Roedel * Mario Rogan * Jan Rogers * Khafre Rogers * Mary Rogers * Alice Rogoff * Alissa Roland * Rachel Rolmachoff * Ayla Ronman * Elena Ronquillo * Dee Rosario * Bill Rose * Michael Rose * Robin Rose * Lisa Roseman * Stephen Rosenblum * Penny Rosenwasser * Beatrice Ross * Paula Ross * Margaret Rossoff * Phoebe Rossten * Allie Roth * Mary Roth * Tricia Roth * Jessica Rothhaar * Carol Rothman * Yassen Roussev * Dennis Rowcliffe * Charlotte Rubens * Janice Ruchlis * Thea Ruoho * Karen E Rusiniak * Courtney Rusler * Ryan Rusler * Charlotte Russell * Linda Rutkowsi * Geraldine (Jeri) Ellen Ryan * Kathleen Ryan * Erik Rydberg * Kae Saechin * Meuy Saelee * Stephen Saiz * Ruth Sakheim * Macick Sakrejda * John Sala * Bob Sale * Fiona Sali * T. Samuelson * Ana Sanchez * Abraham Sanclez * Maureen Sandidge * Linda Project Sanford * Lisa Sanford * Carol Van Sant * Kathryn Santana * Emily Santiago * Michael Sarabia * Nicole Sasaki * Fay Savage * Judith Sayferman * Erik Sayle * Patty Scanlon * Carolyn Scarr * Susan Schacher * Ken Schafer * Michael Schafer * Donna Schaffer * Pat Schamus * Erica Schapin-Sakeshshib * Katherine Schellenbuh * Donna Schempp * Robin Scheswohl * Naomi Schiff * Lauren Schiffman * Matt Schlegel * Ben Schleifer * Marla Schmalle * Andrew Schoenwetter * Derek Schubert * Tom Schuessler * Jeanette Schuler * Betsy Schulz * Juliana Schwartz * John Schweizer * Tom Schwertschart * Valerie Stoll Schwimmer * Maggie Scott * Mark Scott * Ronald Scott * Suzanne Scott * Chrisey Secchi * Gina Secchi * Yesica Seclazeer * Ryan Seelbach * Kelly Segal * Louis Segal * Susan Segal * Alex Serrano * Shanna Serrano * Jilliana Settle * Paymon Shabod * Ellen Shaffer * Beverly Shalom * Cindy Shambam * Cindy B Shamban * Laura Shapiro * Dan Shaugnessy * Kathryn Shearman * Paul Shelter * S. I. Shen * Barry Sheppard * Evelyn Sheridan * Ian Sherman * Young Shin * David Shirling * Sheila Elizabeth Shives * Larry Shoup * Carl Shownyh * Marj Shultz * Mady Shumofsky * Jeffrey Shurtieff * Shalaya Shyman * Manali Sibthorpe * Cheryl Siecker * Gloria Siegel * Kelsey Siegel * Ralph Silber * Susan Silber * Christina Bohn Silva * Sandy Silva * Pat Silver * Dara Silverman * Eva Silverman * Andrea Simms * Michael Simon * Paul Simon * Dalbil Singh * Sonali Singh * Susan Singh * Nikhil Joe Sinha * Tony Sirna * Stephanie Sisk-Hilton * Edmond Siu * Heather Skibbins * Christopher Slafter * Larry R. Sloan * Janet Olivia Smartt * Bianca E. Smith * Bill Smith * Corless Smith * George Smith * Gerald Smith * Iris Smith * Judith Smith * Terri Smith * Thomas Smith * Tyrone Smith * Will Smith * Eula Smolen * Don Snah * John Snell * David Snippen * Keith Snodgrass * Tiffani Snow * Andrew Snyder * Deirdre Snyder * Phylece Snyder * Todd Snyder * Nathan Sobasten * Arister Socake * Robert Soden * J. Sohal * Antonio Sohera * Jake Soiffer * C. Sokugawa * Cherish Solef * Sally Sommer * Scott Sooner * Phoebe Sorgen * Angelika Soriaro * John C. Souza * Ruth Spencer * Bob Spies * Loren Spina * Cindy Spring * Judith Stacey * Christine Stait * Nathan Stalnaker * Caitlin Standish * Sterling Marsha Standish * Yvonne Stanford * Brian Stanke * Briane Stanke * Mirela Stanke * Kim Stanley * Caroline Stanton * Meredith Staples * Carletta L. Starks * Melvin Starks * Randy Startroen * Nina Stavinga * Barbara Stebbins * Brenna Stein * Jason Stein * Joe Stein * Julie Steinberg * Bonnie Stender * Holly Stewart * Natasha Stewart * Ben Stiegler * Jon Stiles * Amy Stimmel * Barbara Stone * M. Stone * Emily Stoper * Wisteria Stork * Micelo Stoube * S. Strain * Daniel Strauss * Fred Strauss * Jonah Strauss * Mary B. Strauss * Stephanie Strauss * Jesse Streker * Ken Strickland * Jason M Stropko * Diana P Studebalu * Brian Sueksdorf * Fumi Sugihara * Kelly Sullivan * Lisa Sullivan * Karen Summerly * Daniel Suzio * Anya Svanoe * Carolyn Swanson * Kevin J Sweeney * Rosemary Sweetwood * Christine Swenning * Sean Sylvis * Lan Huong Ta * Hiyab Tadesse * Phyllis Tait * A. Takahashi * Joseph Tally * Le Tam * Lucas Tamminen * Erica Tan * Akio Tanaka * Kate Tanaka * Lucia Tanaka * Sandra Tankson * Lora Tannenbaum * Marcia Tanner * Terrs Taplin * Sheila Tarbet * Mari Rose Taruc * Helga Tarver * Janelle Tassaro * Zein Tawil * Curtis Taylor * Denise Taylor * Nancy Taylor * Sue Taylor * Ben Tear * Toby Tehin * Alice Templeton * Debbie Tenenbaum * Beth Teper * Luwam Tesfamariam * Tran Thanh * Carol Thenot * Jampa Thinlay * April Thomas * Jumoke Thomas * Tanija Thomas * Valborg Thomas * Ajaye Thompson * Ena Thompson * Esther Thompson * Gail Thompson * Randl Thompson * Anita Thomson * Dave Thoni * Annette Thonpen * Abigail Thorne-Lyman * Shamus Thornton * Scilq Thy * Jane Tierney * Kristina Tierney * Gretchen Till * Rev. Dr. Kate Titus * Jason Tkaczyk * Lucky To * Minh To * David Tobis * Gerri Tochet * Anna Todio * Lloyd Tolbert * Willis Tom * Pat Toney * Sharon Cornu Toney * Claudine Tong * Daniel Torres * Mike Torrey * Sophalla Touch * Javier Tous * Jessica G. Tovar * Jessica Tovar * Rochelle Towers * Lisa Tracy * Piper Tracy * Chau Trang * Cathy Travios * Meagan Travlos * Kelly Trego * Tameia Tucker * Aung Tun * May Tun * Laura Turiano * Glenn Turner * David Tursi * Chris Tuttle * Julie Twichell * Betty Tyler * Dorothy Tyler * Laurie Umeh * Ellen Underwood * James Underwood * Amado Uno * Victor Uno * Rohit Upadhya * Terry Ustaszewski * Sarah Uveges * Peter J. Gaughan V * Angelina Valdez * Frank Vallecillo * Denise Vanglass * James E. Vann * Catherine Vanti * Kit Vaq * Diane Vecchi * Emil Velaxquez * Max Ventina * Mary Beth Ventura * Diane Verdugo * Ana Vertel * Stacey Vickens * Nina Viggi * Erin Cooper Vigney * Nicole Vigney * Renee Villamario * Sergio Villarroel * Jennifer Villeneuve * Efrain Villicana * Maria Villicana * Naomi Vinbury * Qnyen Vo * Sandra Vo * Ezekiel Volker * Johanna Vondeling * Raynor Voorhies * Monica Wady * Jessica Waggoner * Thersa Wagner * Nabil Wahbeh * Eleanor Walden * Chris Walker * Jean Domenci (Walker) * Jim Walker * Patricia Wall * Ava Wallace * Taylor Wallace * Sheryl Walton * Bryan Ward * Rev. Cheryl Ward * Bendad Warda * Allene Warren * Cheryl Warren * Cynthia Warren * Diana Warren * Jan Warren * Lesley Warren * Renee Wash * Annie Campbell Washington * Jill Wasserman * Mark Watanabe * Susan Waters * Maurine Watkins * Owen Watson * Kim Wayne * Marquis Weaver * Joel Weber * Shoshana Wechsler * Beth Weinberger * Linda Weiner * Al Weinrub * Ron Weisberg * Laura Wells * Madeline F. Wells * William Wells * Lachlan Welsh * Peter Welte * Kathleen Welter * Lisa Werr * Carla West * Stacy Wheeler * Amanda Wheelock * Nick Whipps * Amos White * Amy White * Cliff White * Mary White * Peter White * Jessica Wickens * Arne Wilberg * Natalie Wilkinson * Steve Willett * David H. Williams * Edith Williams * Jasmine Williams * Jerah Williams * Judy Williams * LaDonna Williams * Rob Williams * Robert Williams * Yvonne M. Williams * Earl Williamson * Amy Willis * Jim Wills * Allie Wilson * Diane Wilson * Eric Wilson * Jay Wilson * Mauricio Wilson * Nettie Irene Wilson * Valerie Winemiller * Ruth Laurie Winestock * Natasha Winfrey * GG (Gwen) Winter * Renais Winter * Nicole Wires * Ella Wise * Susan Witka * Chuck Wittorp * Patrice Woeppel * Pete Woiwode * Dorothy Pauline Wonder * Kris Wong * Tiffany Wong * Betsy Wood * George Wood * Michael Wood * Stan Woods * Paula Worby * Donald Worth * Dorothy J. Worth * Vanessa Wray * Armin Wright * Brandon Wright * Dan Wright * Darrick Wright * Linda Wu * Beth Wurzburg * Carol Wyatt * Nathan Wyeth * Kristine Wyndham * Ahlnez Xrozzeli * Deborah Yaffe * Audrey Yang * Irene Yen * Daisy Yim * Michael Yoshii * Louise Yost * Elizabeth Youhn * Damon Young * Jason Young * Stewart Young * Walter Young * Windsor Young * Johnny Yu * Larry Yu * Sydney Yu * Scott Yundt * Jesse Yurow * Vicki Zabatini * Carol Zabin * Mike Zampiceni * Angela Zawadzki * Ellen Zebrowski * Sonia El Zein * Jean-Jacques Zenger * Carol Zhou * Jin Zhu * Mark Zier * Shelby Ziesing * Shira Zingman-Daniels * Ami Zins * Janet Zovickian * Morissa Zuckerman * Karen Zukor